This is the Fallout Forecast map for the next 48 hours. Although we are somewhat in a holding pattern from the last forecast I expect by mid-week we may see some new risk areas highlighted.
Winter Storm Maximus will bring snow and rain to major East Coast cities throughout Monday but Winter Storm Nika will be close behind, hitting the Midwest on Tuesday. As the low develops over the plains it will be pulling moisture out of the Gulf, reducing the risk for areas of precipitation in the southern states but keeping fallout risk high for the area between Kansas City and Detroit/Cleveland. Traditionally, we have seen higher fallout risk from Pacific storms as opposed to Gulf moisture events. We will see if this assumption still holds true as the week goes on.
 About the map: the fallout risk map is a screenshot of the continental US water vapor analysis at the time of posting. Areas in red indicate a high potential for fallout, areas in pink indicate a medium risk, areas in yellow are cautionary, but low. The areas not covered by a color indicator will essentially be precipitation-free. This map should only be a guide and does not in any way guarantee that your outdoor area is 'safe' or 'not safe'. It simply shows the risk potential, based on a number of weather indicators and atmospheric transport studies.
On Friday Jan 31st we published the Super Bowl forecast, and had a direct hit based on NETC/EPA fallout data.
Here is the map:
Here is the NETC screenshot:
And here is the 72 hour water vapor analysis in gif format of this fallout event.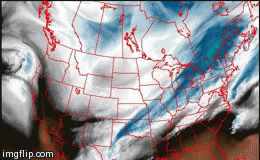 The magnetic charge of radioactive particles is what helps them 'cling' together in the atmosphere. The effect of the field depends on the charge of the radiation. Alpha particles are positively charged and are therefore attracted to the negative plate in an electric field. Beta particles are negatively charged and are therefore attracted to the positive plate in an electric field. Gamma rays are unaffected.
Below is an excellent demonstration of the how charged particles cling together magnetically. Jim Lee recently posted an excellent review of atmospheric rivers which can be found on Climate Viewer News current headlines. Both electric fields of charged particles and atmospheric rivers are important basics for understanding how to predict nuclear fallout.
The next fallout forecast will be posted on Wednesday, February 5th. While parts of the USA and Europe have been getting buried, in Russia they are being forced to make snow for Sochi! The 22nd Winter Olympic Games begin with the opening ceremony this Friday, February 7th, and run til Sunday, February 23rd in Sochi, Russia.
To read about the history of the Fallout Forecast, please see our initial forecast and my bio.
Stay warm and stay safe! ~ Christina