The focal point of today's Fallout Forecast is New Mexico, Texas, and Oklahoma: courtesy of the ever-worsening Waste Isolation Pilot Program anomalies of the past few weeks. As you may recall, 2 weeks ago, WIPP had a fire. This past weekend, WIPP had a leak. Now, we learn it also 'leaked outside' into the environment — but just how far or how much is yet to be determined. Or shared with the general public. What we did learn, is they found the worst element ever that could possibly leak out of a situation like this, Plutonium. Remember the beagles?
On Feb 19th, WIPP revised statements to report that Plutonium and Americium were indeed detected  ABOVE ground, contrary to previous information. Potrblog released atomic particle estimation by inhalation calculations,  based on information he subsequently received from  reporter Zach Ponce, investigating for Argus. Although we now know the products (Pu + Am), we do not know the mechanism of release (fire vs leak vs explosion or all 3?), the total amount released, how far these particles were carried by wind and weather, and whether or not the situation is ongoing. We can get an idea, looking at weather, wind, and distance, as well as time passed since the event, although with so many events to choose from, you'll just have to pick one. Prior to tonight's press release, the WIPP spokesman has assured all news outlets that the radiation had remained underground from both the fire and the leak, and there was no threat to people living downwind of the facility, at all. They still maintain that levels are not harmful, although they have yet to test anything outside of their expansive grounds. It would be very interesting to know how they were able to make that determination.
The area of Maximum Alert for New Mexico, Texas, and Oklahoma are circled in red. Each numbered segment represents a total of 5 hours wind travel at current wind speed of 17 mph. So in section 6, the wind from WIPP would have reached Oklahoma City in approximately 30 hours, assuming particles carried that far, and winds have remained fairly constant. Precipitation bands are also appearing on water vapor analysis.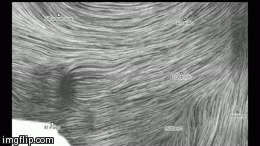 See full resolution FM Wind Map here.
Utmost precautions to avoid outdoor air and precipitation should be undertaken by the areas in red, until we have more information. Change in wind speed and direction needs to be closely watched by neighboring communities, and appropriate actions taken. Testing will need to be conducted outside of the facility, and in neighboring towns. Concerned communities and city managers should contact the EPA or FEMA.
This is a RADIOACTIVE HAZMAT situation until otherwise proven, and should be taken seriously.
From Wiki: Downwinders refers to individuals and communities who are exposed to radioactive contamination or nuclear fallout from atmospheric or underground nuclear weapons testing, andnuclear accidents. Currently, this article focuses on incidents in the United States, or caused by its weapons testing.
More generally, the term can also include those communities and individuals who are exposed to ionizing radiation and other emissions due to the regular production and maintenance of nuclear weapons, nuclear power, and nuclear waste. In regions near U.S. nuclear sites, downwinders may be exposed to releases of radioactive materials into the environment that contaminate their groundwater systems, food chains, and the air they breathe. Some downwinders may have suffered acute exposure due to their involvement inuranium mining and nuclear experimentation.[1]
Several severe adverse health effects, such as an increased incidence of cancers, non-cancerous thyroid diseases, and congenital malformations have been observed in many and diverse "downwind" communities exposed to nuclear fallout and radioactive contamination. The impact of nuclear contamination on an individual is generally estimated as the result of the dose of radiation received and the duration of exposure, using the Linear No-Threshold Model (LNT). Sex, age, race, culture, occupation, class, location, and simultaneous exposure to additional environmental toxins are also significant, but often overlooked, factors that contribute to the health effects on a particular "downwind" community.
We will provide updates to this story as they become available. We are all downwind…of something.
UPDATE Feb 20th 3:00 pm est:
CARLSBAD, N.M. (AP) — The U.S. Department of Energy has appointed a team to investigate the detection of radiation in and near a southeastern New Mexico facility that's the nation's only underground nuclear waste repository in operation.
The assessment of the Waste Isolation Pilot
 Plant will be conducted by an accident investigation board consisting of department officials and representatives of health and safety agencies, the department said in a statement released late Wednesday.
The board will be assisted by experts in fields such as fire protection, ventilation, and mine safety, the department said.
An underground monitor at the plant near Carlsbad detected airborne radiation late Friday night, and an independent monitor center said Wednesday it found radioactive isotopes in an air sensor a half-mile from the plant.
MORE UPDATES with links provided by ENENEWS Feb 20th 4:15 pm:
KUNM (NPR affiliate), Feb. 20, 2014: Highest Ever Radiation Levels Detected In Air Above Nuclear Waste Facility […] Russell Hardy, director of the Carlsbad Environmental Monitoring and Research Center, said Wednesday a monitor near the Waste Isolation Pilot Plant in southeastern New Mexico has detected trace amounts of the radioactive isotopes americium and plutonium. He says the levels are the highest ever detected at or around the site […]
Albuquerque Journal, Feb. 20, 2014: […] "It's still below what EPA considers actionable levels, but it's important to know that some material did get out of the facility," Hardy said. […] Plutonium and americium are cancer-causing when inhaled or consumed, Hardy said. […] WIPP said Wednesday that it is developing a plan to safely re-enter the underground facility. Radiological professionals from other Energy Department locations and national laboratories are also assisting in the recovery, WIPP said. […] Hardy said CEMRC is in the process of testing 10 additional filters from an exhaust shaft at WIPP.
RT, Feb. 20, 2014: Spokeswoman Deb Gill said […] officials know very little about the extent of the problem or how to solve it.
John Heaton, chairman of the Carlsbad Nuclear Task Force: "Even though it's very discouraging that there was a release, it's strictly speculation about what caused that. You have to realize that all the containers are closed and sealed (underground in WIPP). Until they are able to go back down and examine the waste, we could find out it's something even different than we think."
Don Hancock, director of the Nuclear Waste Safety Program at the Southwest Research and Information Center in Albuquerque: "There is a lot more that needs to be known […] The big problem is, does anybody really know what happened in the underground and how much was released or is continuing to be released? And therefore how much is being captured by the filters and how much is getting into the environment?"
Russell Hardy, director of the Carlsbad Environmental Monitoring and Research Center: "We don't know what happened inside that might have caused a release. We don't know why it happened and we don't know whether it could happen again."
UPDATE Feb 21st 2:00 pm est: Officials in NM very upset with DOE for hiding PU release for 5 days. Latest 'theory' is that a section or slab of roof caved in and smashed barrels, although they have no idea, as no one can enter underground facility. It will be at least 2-3 weeks before anyone can enter, and only if it is 'safe' enough at that time. Video here.
UPDATE Feb 22nd 6:00 am est: From Robert Soltysik of Optimalprediction: I used HYSPLIT to generate a wind
trajectory map from the Feb. 14 release. The release was modeled to occur at 8 PM local time on Feb. 14, at an altitude of 50 meters. Cities near the path of the plutonium include Roswell NM, Lubbock TX, Wichita Falls TX, San Angelo TX, and Elk City OK. Wichita Falls got it twice. Each red triangle is a 24-hour interval.
UPDATE Feb 22nd 1:40 pm est: NM: THERE'S "NO DANGER TO PUBLIC" BUT… CEMRC is providing free lung and whole body counting service to concerned adult citizens living within a 100-mile radius of the WIPP facility. This service is available by scheduling an appointment with the CEMRC Internal Dosimetry Lab at 575-234-5530.
CEMRC, funded through a financial assistance grant by the U.S. Department of Energy Carlsbad Field Office, is tasked with conducting an independent environmental monitoring program of the WIPP facility for the citizens of Carlsbad and southeast New Mexico. CEMRC's environmental monitoring program consists of the evaluation of samples of various media for the presence of radiological and non-radiological components likely to be found in the waste at WIPP. These media include WIPP underground exhaust air; ambient air around the WIPP repository; drinking water samples from the five municipal water systems in the area, as well as the Double Eagle well field; soil samples from the region around the WIPP repository; and surface water and sediment samples from the three public reservoirs in the area, Brantley Lake, Lake Carlsbad and Red Bluff Lake.
See more at:http://newscenter.nmsu.edu/news/article/10089/#sthash.a3xLHX4c.dpuf
UPDATE Feb 28th 2:30 pm est:
**New tests show plutonium reached millions of times normal levels at WIPP site — Concern air filters at plant may not have worked — Gov't accused of lying about radiation leak
http://enenews.com/new-tests-show-plutonium-millions-of-times-above-normal-levels-at-wipp-site-concern-air-filters-at-plant-may-not-have-worked-govt-accussed-of-lying-about-radiation-leak-video
UPDATE Feb 28th 7:30 pm est (all links courtesy of Enenews):
ABC, Feb 28, 2014: New concerns now about a story we brought you yesterday. Investigators now admit that the problem is serious […] a container of radioactive waste leaked underground at the WIPP,  they admit it's too soon to tell how dangerous it could be for those exposed.
NPR, Feb. 28, 2014: CAPTION: A piece of salt is believed to have fallen from a cavern ceiling and crushed drums of waste […] the most likely scenario is that a huge chunk of salt fell from the ceiling and ruptured a drum or multiple drums of waste.
AP, Feb. 28, 2014: Government officials, politicians, the contractors emphasize that all the safety systems designed to react to worst-case scenarios like a ceiling collapse worked.
NPR's Geoff Brumfiel, Feb. 28, 2014: Nobody knows exactly what happened. That's one of the strange things about this…the speculation I've been hearing is that a chunk of salt, probably, fell off the ceiling and struck a drum or drums and ruptured it. Oh, I think it's very unlikely there is risk to the public. […] they are following these workers quite closely to see how this radioactivity clears their system […] clearly something's gone wrong. Unfortunately, nobody can go underground to find out what's happened.
New York Times, Feb. 28, 2014: The workers inhaled plutonium and americium, which if lodged in the body bombards internal organs with subatomic particles for the rest of the person's lifetime.
Wall St. Journal, Feb. 28, 2014: Plutonium and americium particles can lodge into bones or muscle tissue, affecting cellular structures and DNA, experts say. "When it gets into your body it can do a lot of damage," said Edwin Lyman, a senior scientist at the Union of Concerned Scientists in Washington, D.C. "Even very small amounts are a potential concern." […] "Absolutely people are concerned," said Tony Hernandez, a commissioner in Eddy County
Al Jazeera America, Feb. 28, 2014: Arnie Gundersen said the DOE's tight lips might be a sign that the leak is bigger than originally thought. "There are signs they're playing keep-away with data," he said. "We need to know what they measured for. They're only giving us half the numbers" Gundersen said officials are likely conducting a slew of tests that they are not disclosing to the public. He said the fact that radiation is being detected 3,000 feet away from the site suggests the leak is large.
CEMRC Ambient Air Sampling Results (pdf), Feb. 27, 2014: 11.8 Miles SE of WIPP Exhaust Shaft— Am241 *Sample Being Reanalyzed
UPDATE March 5th 2:30 pm: #WIPP damage control as KRQE takes potshots at BeautifulGirlbyDana on youtube and Rob Soltysik of Optimalprediction:
[su_youtube url="http://www.youtube.com/watch?v=DO_-tSDsR5w"%5D
UPDATE March 5th 4:15 pm:
WIPP Expert: Nuclear waste is getting out above ground — Plutonium / Americium found in "every single worker" on site when leak began — New Mexico officials 'totally unsatisfied' with lack of info from Feds — "We don't know how far away it's gone" — Continuing threat for long time to come
http://enenews.com/wipp-expert-radioactive-waste-is-getting-out-above-ground-plutonioum-or-americium-found-in-every-single-worker-initially-on-site-new-mexico-officials-totally-unsatisfied-with-lack-o